Simplified Mail

New rules for mailing have been introduced on helping businesses advertise themselves more effectively. This is the EDDM for Retail and Non Profits. There are no addresses for this and it gives the mailer a manner in which to saturate an area effectively. The costs for postage have been also reduced. There are restrictions however to this. 5000 pieces maximum per day per zipcode.  The mail piece also must be in the Flat category size and meet the weight and paper thickness standards for mailing. Also with the EDDM standards, you do not have to purchase a permit for mailing. 

However, if your mailing requirements are greater than 5000, we as a commercial mailer can easily accommodate that. Since we process over a half a million pieces monthly now we can expedite the process directly from our facility.

This is an exciting new way for advertisers to get their word out at an inexpensive rate. Call or email us for a quote.

Plant Loads

As of June 2017 we have been placed on Plant Load Status with the USPS. We currently are mailing 2000 to 2500 pounds of mail a week. This gives us control over processing the mail out of our facility. We now can control when the mail arrives at the DDU's and thus control the delivery to the clients homes. This is major new feature for us.

Classes

Because I have encountered so many companies that do not understand how to do a Direct Mail Program for their advertising, I have decided to fix that. I have put together a class that takes about an hour to go through, that takes you through all the steps needed to make a mail program successful. I have given this class to over 10 companies now and they all have gained valuable information.  Call me to schedule some time. 314-427-3181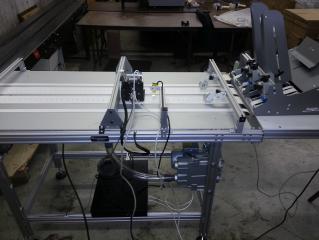 Our newest Inkjet. This is a custom made piece that greatly broadend our capabilities to process mail.

ImB for Automation

As of January 2013 the ImB (Intelligent Mail Barcode) was implemented into service. This new tool is now the standard in which the US Post Office is using to allow the Automated Rates to be given.  

Tabbing Rules on Self Mailers

Since many of the mail pieces that we get are always different it would be best to call us first when you plan on developing your mail piece. That way we can give you a definitive answer to what the US Post Office requires for the mailer.

School District Geo Mapping Service

We have implemented a new service to our tool box here at Skaggs Mailing. We now can map according to the boundary's of the school districts all the USPS Carrier Routes and do roof top geo coding to the routes that cross from one district to the another. This will help keep postage and printing costs down simply because you are mailing to the district only. It will eliminate the out of area complaints and miss spent money issues. Now you can mail Simplified and Inkjet specifically the School District households. We have a lot of experience (15 years) working in this environment, so call or email us for details on how we can help you keep costs down.